Group Keeping in Touch
Dear friends,
As the days shorten and the leaves fall the temptation to hunker down and stay indoors comes to us all. Yet some of my highlights in these recent weeks have been the opportunity to gather together over a cup of tea or coffee and just enjoy being together. God created us in their own image, and God is three-in-one – so enjoys being in community and fellowship! The old poem "no man is an island" is so true.
One of the things we missed during lockdown was simply meeting together. Of course, we still have to be careful, we all know that. But restarting a few things in Hawkenbury, Rusthall and United Emmanuel has reminded me of that early church described in Acts 2 46-47 "They followed a daily discipline of worship in the Temple followed by meals together, every meal a celebration, exuberant and joyful, as they praised God. People in general liked what they saw. Every day their number grew as God added those who were saved."
Keeping in Touch – we are very grateful to the band of "helpers" who put together the KIT, print, and deliver it. Many folk receive this by email too, which helps with both person time and costs. We said we would review the situation in the Autumn so the time has come for that review – later in November there will be a meeting of those currently involved plus some of those who used to help produce the magazine. Whatever we do next relies on people giving their time and energy. Those currently involved cannot all continue, mainly because they are involved in other things within the fellowships, so we need new people to step forward.  If this is something you feel you could help with let me know and you will be invited to the meeting.
Finance – we in the UK often find talking about money slightly awkward. Yet that is not true of the Bible which has many, many references to it; in fact it is one of the Bibles favourite topics. Usually, it talks of making sure we spend our money wisely, of making sure we pay a fair price and not trying to cheat others. Yet it also says God loves a cheerful giver 2 Corinthians 9:7 Each of you should give what you have decided in your heart to give, not reluctantly or under compulsion, for God loves a cheerful giver. Covid times have moved us quicker towards a "cashless society". So, if you find yourself short of cash to put in the collection plate or bag why not think about setting up a standing order to make life simpler for you and our hardworking church treasurers? Speak with John L. (Hawkenbury), Jacqui (Rusthall), or Dave H (United Emmanuel) for more details. And if you currently give by standing order and want to increase the amount you give, I am sure they would be delighted to help you do that too.  HW
_News from Hawkenbury United Reformed Church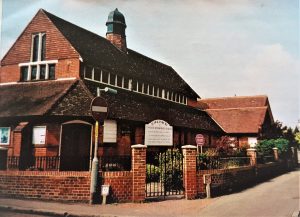 Everyone seems to be happy that we have now been able to resume serving tea and coffee in the Small Hall after our Sunday services. We've also restarted our Tuesday community coffee mornings and the Knit and Natter Group got together again on 14th October, after some confusion as to the restart date! They will now meet on the 2nd and 4th Thursdays of each month, as before. It's good to feel that things are getting back towards what we feel to be normal – let's hope that circumstances don't change as we head into winter so that these activities have to be put on hold again.
Unfortunately, a few of our "regulars" still do not yet feel able to start joining our services, but we would assure all of them that they are always in our prayers and we do hope to be able to see them back with us eventually.
Helen and Adam have kindly offered to take home communion to anyone still feeling they must stay at home, and they hope to start this nearer to Christmas. If you, or anyone you know, would like to take advantage of this offer, please get in touch either with Helen or one of our Elders.
Whilst our Harvest Service on 3rd October, and the subsequent meal, went very well, we were disappointed by the number of folk who, having indicated they would join us for the meal, did not do so on the day. Only 26 attended, out of an expected 40+, so there was a fair bit of food left over. The Elders feel that, in future, when we hold such an event, members and friends will be requested to pay a small non-returnable deposit to help defray costs. We think that will not be unreasonable.
I'm pleased to say that bookings of the Church Halls are starting to pick up again, which is good news as we really do need the income! However, they remain well down on prior to Covid, so if you know of anyone waiting to hire a hall for, say, a meeting or a children's party, do tell them about Hawkenbury URC!
Derek Fickling, Church Secretary
Preachers for November:
7th  Rev Helen Warmington with Adam Earle
This service will include Holy Communion.
14th  Richard Blackwell
21st Paul Cuthbert
28th Colin Owen
   _________________________
 News from Rusthall United Reformed Church

Pastoral News
Congratulations to Jan on the birth of her granddaughter Elva Nell. Although there were complications in the early stages both mother and daughter are home now and doing well.
Mary's husband, Siggy is not very well. He has been diagnosed with a tumour and is awaiting a stent and possible chemotherapy. Our thoughts and prayers are with them both.
Grace who broke her tibia in an accident is hoping to have her surgical boot removed soon. We pray that her leg will have healed and she will be free from pain.
We continue to pray for all those who are unable to come for whatever reason. We would be delighted to welcome you back if you feel that you can be with us again. We now no longer wear masks at all in church which is so much better for singing our hymns of praise.
Other news:
Our coffee morning on 16th October raised £201.82; this was a pleasing result and will be used for twinning three more of our toilets with some in Africa. Thank you to all those people who helped with and supported it. It was our first coffee morning for more than 18 months due to covid. It was a very sociable time and was good to see friends we haven't seen for quite a while.
The Far Trade Café has been disbanded and in its place is the Community Café. The next coffee morning for this will be on 28th November but it will not meet in December as it will be Christmas Day!
Our charity for this quarter is the Gideon Society but this has recently had a name change in the UK only. It has always been a male society, but in Britain women have been invited to belong in order to make it more inclusive. It will now be known as "GOOD NEWS for Everyone" and will still be doing the same work of distributing Bibles to spread God's word.
Worship leaders for November
7th November          Duncan Warmington
14th November        Jacqui Ferdinando
21st November Helen Warmington and                                    Adam Earle (C & CM)
28th November          Paul Cuthbert
_____________________________________________
News from United Emmanuel Tunbridge Wells.
Prayer Drop In
United Emmanuel church is open for prayer the first Tuesday every month from 11.30am to 12.00 noon.
All are welcome to drop in for this informal time of prayer together.
 House groups
We now have two house groups which have begun meeting in person again – Exploring Faith which is hosted by Nancy Stone, and the 'new' group hosted by Colin & Jenny Evans.  The Exploring Faith group, which is currently studying the Acts of the Apostles, meets monthly on a Wednesday at 2.30pm (next meeting 3 November).  The 'new' group, which is currently following the Bible Society's Bible Course (an 8 part panoramic overview of the Bible), meets monthly on a Monday at 7.30pm (next meeting 15 November).  Future dates are always flexible to accommodate people's availability.
If anyone who is not currently attending a group is interested in joining one, please contact Ian Beavis (iancbeavis59@gmail.com) for further details.  Also if anyone would like to volunteer to host / facilitate an additional group, Ian will be glad to discuss the possibilities.  If there are enough people interested it would be good to get another group going, as we did have more pre-Covid.
Charity Coffee Morning Tuesday 9th November. We raised £54 towards this month's charity which is:
The Churches for Tunbridge Wells "SOUP BOWL"
 (The Soup Bowl is now under one roof at the MOSAIC CENTRE, Quarry Road, along with other resources for advice and help to the less fortunate in our society)
Tuesday Lunchtime Services.
These services begin at 12.15 and finish at 12.45.   Everyone is welcome, a time of fellowship together follow each service with light refreshments.  We offer a warm welcome to all those who join us; our speakers for November are:
2nd Pastor Gareth Jones  (Pantiles Baptist)
9th.  Adam Earle
16th. Rev Helen Warmington
23rd. Rev Canon Jim Stewart – St James
30th. Rev Judi Hammell.  (Curate at St. James)
Project 21.
GAMES EVENING go to: FUND RAISER
This event is being held at The Wells Free School, Mt Ephraim, Tunbridge Wells (The old K&S Hospital site). The games organiser is David Ward and will include board games old and new, some David's own invention.
PLEASE, PLEASE NOTE THAT THIS IS NOT JUST FOR YOUNGSTERS & FAMILIES BUT FOR ALL AGES, WE NEED EVERYONE'S SUPPORT!
___________________
Project 21 Christmas Cards
An idea to contribute this Christmas towards fundraising for Project 21:
Perhaps you might like to send just ONE card to all our friends at church which can be hung on a decorated branch in the entrance foyer, and donate the money saved to Project 21?
As the advert says, 'Every Little Helps'
This would make a lovely Christmas decoration as we come into the church too. Please don't feel obligated, you can, of course, do whatever you prefer. Further details will follow.
LOVE in a BOX.
We continue to support this charity and the procedure is the same as on previous years. The leaflets and a few boxes are at the back of the church, along with a container for cash donations if this is how folk might wish to show support. The "Deadline" for handing in your filled shoe boxes is Sunday 21st November.Please remember that the boxes should be left open.
         CLIMATE CHANGE
"The Earthshot Prize is a new global prize for the environment designed to incentivise change and help to repair our planet over the next ten years." Most of us must be aware of this competition and it showed that small steps can lead to big initiatives. Go to: https://earthshotprize.org/london-2021/
The Climate Change Ecumenical Worship prayer meeting held at United Emmanuel on Sunday afternoon 24th October focussed our attention on the various aspects of the COP26 climate change conference 2021.
At one point we assembled in four interchangeable prayer circles in which we prayed for various aspects such as finance; the environment and how its damage by ourselves affects other species as well as ourselves; how coral reefs can be decimated and how these may be renewed and ecosystems revived; how we can improve our atmosphere by reducing carbon emissions, improve our health and also how we can replant areas that have been deforested.
We also received timely reminders from visual aids we could take with us.
The problem is of course persuading countries to fulfil their financial pledges and keep their word on what they have promised.
The service was admirably linked with prayer and song by Rev Helen, Gillian, Adam (special prize for singing) and Duncan.
                                              Rosemary Duncan
________________________________
Sunday Preachers for November
7th   Richard Cannam
14th   Rev Helen Warmington assisted by  Adam Earle – Holy Communion
21st   Elaine Coupe
28th   Rev Helen Warmington